Programmes
The Adventures of Monkey & Crocodile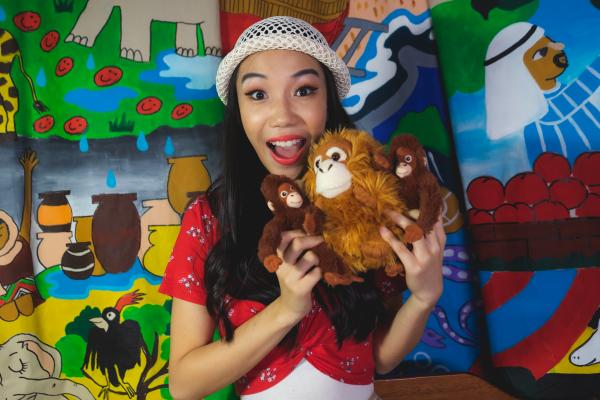 The forest is home to a pair of friends who live up in the tree and down in the river. Whenever Crocodile sang a song, Monkey would dance! And they both shared a love of eating coconuts! Listen to this tale of an unlikely friendship between two very different animals in this captivating storytelling performance.

Time:
Session 1: 10:30AM - 11:00AM
Session 2: 11:30AM - 12:00PM

Location:
Garden, Goodman Arts Centre

Age Group:
Recommended for ages 4 to 8; this is a parent/caregiver-accompanied programme.

Free with registration:
Each ticket admits one participant - please sign up for the total no. of attendees e.g 1 child + 1 parent/caregiver = 2 tickets.
Register via the link, storytellingatgoodman.peatix.com

----------

Additional Information to Take Note:

Audience:
- Please arrive 10 mins before your start time to register and to use the washroom within the Goodman Arts Centre if needed.

- Admission is subject to tickets produced at the meeting point.

- As this is an outdoor programme, you are advised to bring your own water and wear appropriate headgear if necessary.

Advisory on COVID-19: Your well-being and safety are important to us. We seek your cooperation in following the mandatory safe management measures when attending this programme.

Attire:
Please come in comfortable attire and footwear.

Weather:
This is a rain or shine event. In the event of rain, the programme will be moved to an indoors venue.

Latecomers:
There is no lockout policy but note that the experience will start promptly at your registered start time, and seating is on a first-come-first-served basis.

----------

About Goodman Open House
25 Jun, Sat | From 10am
Free Admission

Get ready to spend a day of playful fun at the Goodman Arts Centre, where art and nature come together for a one-of-a-kind experience for art lovers and families alike.

Treat yourself to roving performances, get creative at the interactive workshops and sneak a peek at the artists' studios as you explore the expansive grounds of Singapore's largest arts enclave. Step into the Goodman Community Farm to experience nature and its beauty, and shop at the pop-up market for handmade trinkets and crafted wares to bring home.

With plentiful activities available all day, there is something fun for everyone at the Goodman Open House!

Visit https://goodmanartscentre.sg/open-house-2022 for full lineup.