Media
Article on Young Storytellers by Lianhe Zaobao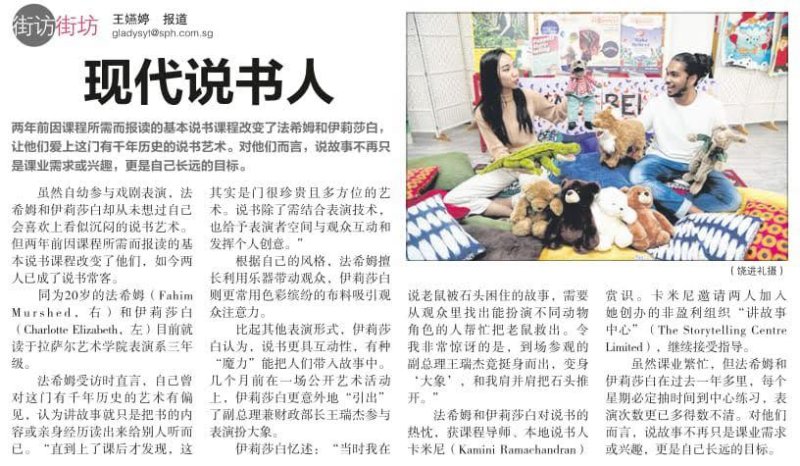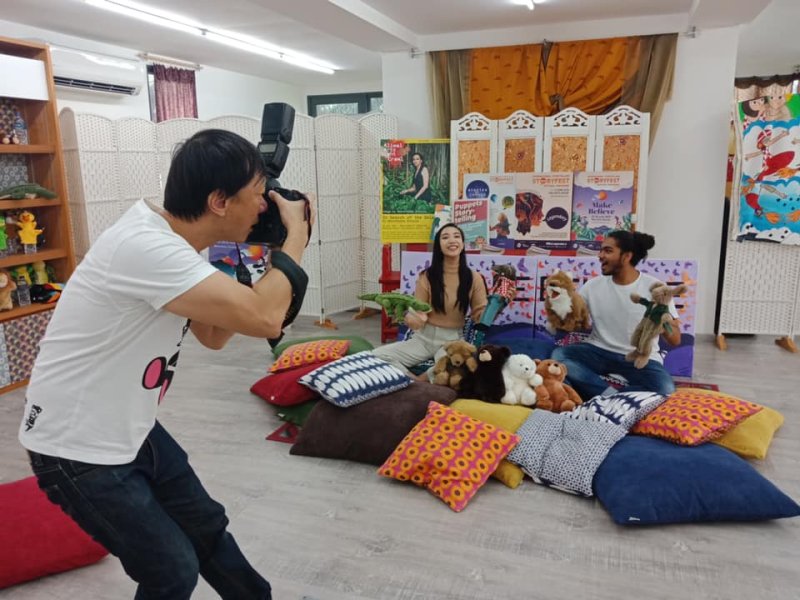 Our Young Storytellers were featured in an interview by Lianhe Zaobao 联合早报 on their storytelling experience.
Read the English translation here:
'Despite being involved in the acting scene at a tender age, Fahim and Charlotte have never once imagined themselves falling in love with the seemingly old fashioned art of storytelling. An accidental encounter with the thousand-year art form as part of their course requirements two years ago, the two of them have been deeply mesmerised and actively promoting the art ever since.
Fahim Murshed and Charlotte Elizabeth , both 20, are currently third year students pursuing a Diploma in Performance in LASALLE College of the Arts. Fahim initially had some misconceptions against the art form. He revealed: "I used to think storytelling simply meant reading a book aloud or recounting one's personal experiences to others. However, through the 'Introduction to Storytelling' course, I have come to realise how precious and comprehensive this art form actually is.
Besides encompassing various performing techniques taught in school, it also provides the performer the opportunity to interact with the audience, as well as the space to showcase one's creativity.
As every storyteller has their own preferences and styles when telling a story, Fahim often utilises musical instruments to move the crowd whereas Charlotte attracts the attention of the audience through the use of fabrics.
Compared to other types of performances, Charlotte feels that storytelling is much more interactive, having a kind of "magic" that can pull the audience into the stories being told. During a public performance a few months ago, Charlotte unknowingly attracted the attention of the Deputy Prime Minister Heng Swee Keat, who acted as the elephant in her story.
She recalled, "At the point of time, I was telling a story about a mouse being trapped under a rock - needing to select participants within the audience to act out different animals which could help free the mouse. I was extremely surprised when the Deputy Prime Minister stepped out, "transforming" into an elephant, sitting alongside me and saving the mouse."
Their deep curiosity and passion in storytelling eventually won them the recognition of their professor, Kamini Ramachandran, who had introduced them to the art of storytelling through the module. Kamini, who is also a local renowned storyteller, then invited them to join the mentoring programme under The Storytelling Centre Limited, whereby only selected few with the passion to learn could enroll in.
Regardless of their hectic academic schedules, Fahim and Charlotte will always take the time out to practise storytelling at the Centre. Since joining, both of them have taken part in countless performances. Ultimately, storytelling is not just merely a course requirement or interest, but have since become their long-term career goals.' - Gladys Wong YT, Lianhe Zaobao.
Read the Chinese article here.