Artefacts Alive! Children's Season 2022
The Runaway Kueh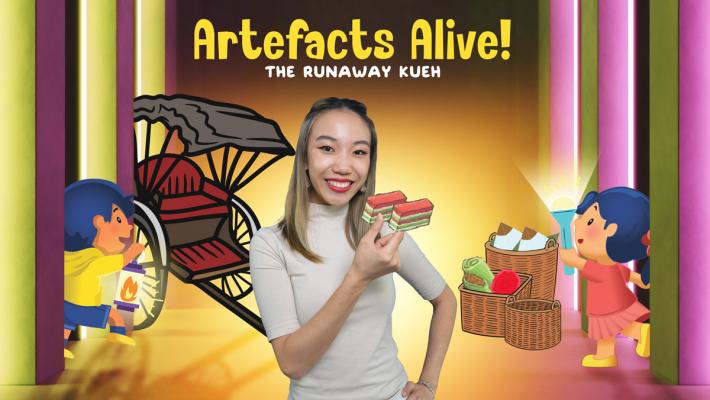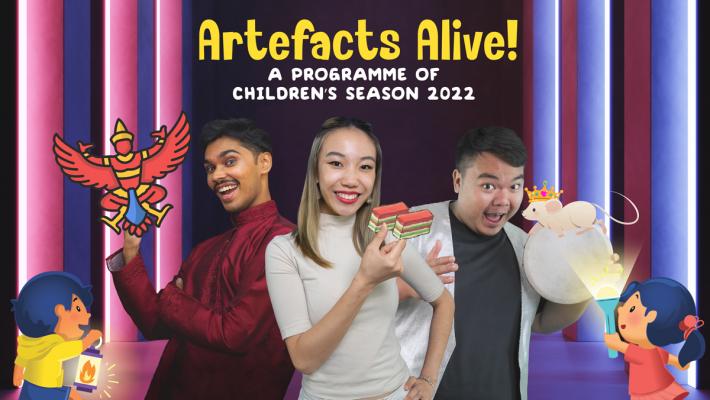 There once lived a kueh-seller and a rickshaw-puller who worked very hard all day and all night long. One day there was a big commotion when a kueh decided to get up from the pan and run out into the streets! Everyone in the neighbourhood gave chase! The mischievous kueh laughed as it ran and ran and ran! Can the kueh keep running forever? Who will it meet along the way?

Meet the early settlers at the National Museum Singapore and together with our storyteller find out which one of them managed to catch the naughty runaway kueh.

Complete your museum visit by making your own glow-in-the-dark maze to take home.
Share your Feedback by completing this Form
DATES:
Saturday, 28th May 2022
Saturday, 11th June 2022
Saturday 18th June 2022
TIMINGS:
2 session timings:
1st Session: 6:00pm - 7:00pm
2nd Session: 7:30pm - 8:30pm
VENUE:
National Museum of Singapore - 93 Stamford Rd, Singapore 178897
MEETING POINT:
Singapore History Gallery, Level 1 (Meet at the rickshaw exhibit)
TICKET PRICE:
1 Parent + 1 Child - $20
Additional Child - $8
(These sessions are strictly for children accompanied by parents/caregivers.)

TICKETING:
Buy tickets via therunawaykueh.peatix.com
ADMITTANCE RULES:
All patrons are required to purchase tickets for admission.
Admission is subject to proof of tickets purchased – Peatix verification.
Latecomers advisory: All latecomers must wait for a suitable cue for entry.
Recommended for ages 4 and above.
Babies and toddlers below 4 years old will not be permitted entry.
This is a parent/adult accompanied programme.
This is not a drop-off programme.
Food & Beverage is not permitted inside the museum galleries.
PROGRAMME INFORMATION
This June holidays the museums come alive after dark as storytellers take you through galleries and regale you with stories! Be enchanted by majestic birds, royal celebrations, and mischief-makers.
Listen to tales of characters that fought fires, travelled far and wide on a quest and who met with an epic chase!

Explore the museums at night and discover the artefacts that inspired the storytelling.
Continue the story character's experiences with a glow-in-the-dark craft activity and take home a memento of your visit to the museum.

This programme is presented by the Museum Roundtable in collaboration with The Storytelling Centre Limited.
This is an in-gallery storytelling programme followed by a craft-making activity.
The total programme duration is 60-minutes.
All craft materials will be provided.
Tickets: Inclusive of in-gallery storytelling, craft activity and a goody bag.
REFUNDS
No refunds. No exchanges of tickets
RECORDING RULES
Unauthorised video and audio recording of the storytelling performance is not permitted.
There will be official photography and videography by the organiser for marketing and event coverage

ORGANIZER
Jointly presented by the National Heritage Board Singapore and the Museum Roundtable